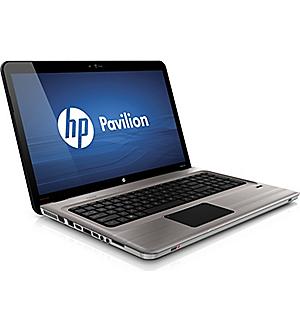 Updated November 2012 – $250 off customized dv7t Quad laptops including free shipping!
How to Use:
Visit HP and configure yours!
Save $250 by applying this coupon code:

HOLIDAY250HP  (expired)
(Note: This is the same code as the latest dv6t coupon.) The HP Pavilion dv7t Quad Edition is–as the name implies–available with a range of 3rd-gen (Ivy Bridge) quad-core Core i7 processors from Intel: the 3610QM (2.3 GHz, 6MB L3 Cache) with Turbo Boost up to 3.3 GHz, 3720QM (2.6 GHz, 6MB L3 Cache) with Turbo Boost up to 3.6 GHz, or the Core i7-3820QM (2.7 GHz, 8MB L3 Cache) with Turbo Boost up to 3.7 GHz.
The best graphics card in the high-end configurations of the 17-inch dv7t was recently updated from a Mobility Radeon HD 7690M with 480 unified shaders and 1GB of GDDR5 to the much faster Nvidia GT 650M with better overall specifications and performance (same GPU as in the Alienware M14x R2). In addition, you can get it with 8GB of DDR3 and up to 2TB (2,000GB) of hard drive space spread across dual drives, or a smaller but considerably faster solid state drive.
HP is back on track with new and improved Ivy Bridge CPU-equipped high-end laptops, and are now offering a great deal on the Pavilion dv7t worth $350 off the list price on any quad-core dv7! This means that for a short time you can get your hands on a high-end laptop with a Mobility Radeon HD 7690M GPU for considerably less than normally. The base config (includes an Intel Core i7-3610QM (2.3 GHz, Turbo Boost 3.3 GHz), 8GB of DDR3 RAM and a 750GB hard drive. For gamers, the most important upgrade is the $25 upgrade to a GT 650M with 1GB or 2 GB of GDDR5.
With the latest Ivy Bridge version of the Pavilion series, HP takes the series from the mainstream to the high-end segment while still retaining affordable prices. The design has been updated and is now more similar to HP's Envy lineup, but what's more important is the significant overhaul of the interior components–especially in the high end Select and Quad Edition variants.
You can now get the Pavilion dv7t with a quad-core Intel Core i7 i7-3820QM, which shows up as eight processors in the operating system thanks to Intel's Hyperthreading technology. Moreover, the Turbo Boost feature, which was further improved in the 2nd-generation Core series, automatically overclocks the 3820QM processor to 3.7 GHz in single-threaded applications from the normal 2.7 GHz.
However, what really gives the dv7t Quad Edition the ability to compete with more expensive gaming laptops is the GeForce GT 650M GPU, which is faster than anything previously seen in the Pavilion series. It is a video card with 384 CUDA cores  that easily runs games like Crysis 2 and other new titles. On the whole, these updates turns the dv7t into a whole new laptop and share its name only with previous iterations.