The best deals of the year are here, and we have meticulously sorted the wheat from the chaff in the gaming laptop segment. As it turns out, there are quite a few great deals available on excellent machines. There are different limitations in terms of expiry date, stock and/or coupons redeemed and we can't check and re-check them all. The short version is that it's best to hurry up before the deals expire.
Alienware
First of all, Alienware is running their best offer in several months. It's valid for four days (expires 11/29/11). The coupon is worth $100 extra in savings on ANY Alienware laptop and includes free shipping. That means that the latest M11x starts at just $799, the M14x (review here) at $999, M17x at $1,399 (3D version also eligible) and M18x at $1,899 with coupon code: 9NLWM92ZQNTZBS
Visit Alienware.com
Use the following coupon code: BHW1L0MX0D?MCX [expired]
HP
The dv6t and dv7t Quad Edition with the option for an AMD Radeon HD 6770M GPU is probably the most interesting options for gamers from HP right now. As it happens, these two are now selling for the lowest price ever! There are two separate coupons that take $450 and $430 off the list price for each of these laptops including free shipping. These are also valid until 11/29/11 or until the limited amount of coupon codes have been redeemed. Note that the codes differ and that the HD 6770M gaming GPU is an optional (but highly affordable) upgrade.
Use this link for the dv7t Quad [expired]

Save $450 instantly using the following coupon: HOLIDAY250HP
Use this link for the dv6t Quad [expired]

Save $430 instantly using the following coupon: HOLIDAY250HP
Newegg
Click on the picture on the left to view Newegg's complete Black Friday listing. Head for page 3 and scroll to the bottom to find some very interesting deals on ASUS' Republic of Gamers laptops as well as a couple of MSI laptops. These are selling out quickly, so even though the listing will be up for another couple of days it's better to act fast.
One of the best deals in terms of value for money is a recertified ASUS G73 laptop with a 2nd-generation Core i7 quad core processor and an NVIDIA GTX 460Mgraphics card that is selling for just $859.99! The newer and slightly faster G74SX is also available starting at $1,149.99 (new).
Additionally, the equally fast but smaller MSI GT683R is selling for just $1,169.99 after using a mail-in rebate card.
TigerDirect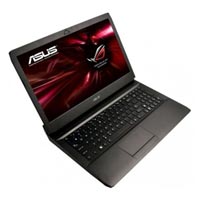 Follow this link [expired] to get straight to TigerDirect's Black Friday page and scroll down to around the middle of the page to find a couple of very attractive offers. One is for a brand new ASUS G53SX (read our review here) for just $899.99 including a Blu-ray drive! Even more importantly, this laptop comes with a 2nd-gen (Sandy Bridge) quad-core Core i7 processor and the NVIDIA GTX 560M.
The larger and also brand new G74SX with the even faster Core i7-2670QM plus a GTX 560M with 3GB of Video RAM and a 192-bit memory bus, plus 12GB of RAM is selling for only $1,249.99–a real bargain on this laptop, which has just been upgraded with a new processor and normally sells for $1,479.99.
Toshiba
Here's the link to Toshiba's Black Friday Deals. [expired]
These are valid until 11/27 and the most interesting option for gamers is of course the latest Qosmio laptops located at the bottom of the page. The deal is $300 off plus 30% off upgrades! This is not bad at all considering that the starting price is $999 or $1,199 for the quad-core version with a brand new Core i7 2670QM.
The new 17-inch Qosmio X770 lineup come standard with an NVIDIA GTX 560M graphics card, backlit keyboards and Intel Sandy Bridge CPUs. It also has room for dual hard drives or even better, an SSD + hard drive combination. There's also an option for an affordable upgrade to a Hybrid drive (likely a Seagate Momentus XT).