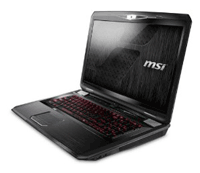 [Updated 12/22/11] The GT780DX-406US is the latest and most heavily equipped version of MSI's 17-inch gaming rig. It comes with the latest Intel Sandy Bridge refresh–the quad-core  i7 2670QM, which operates at 2.2GHz instead of 2.0GHz in its predecessor. In Turbo Boost mode it overclocks to 3.1GHz instead of 2.9GHz. The gaming graphics are handled by an NVIDIA GTX 570M, which is second only to the much more expensive GTX 580M in the manufacturer's lineup.

Update: The coupon code has been replaced by a mail-in rebate that brings the price down to just $1,449.99 including free shipping.
Click here to visit Newegg (opens in a new window) [expired]
Print the MIR rebate card to get it for $1,449.99 (expires 12/31/11)
Don't forget to print the mail-in rebate card to ensure you get the best possible price (there's a link to it just below the extended warranty option). As far as we've been able to gather, this is the best price online on this model at this writing. Note that it's not the cheaper 8GB version with a 2.0GHz CPU. This one is equipped with 12GB of RAM, the faster processor as well as all the other goodies that come with the GT780DX, including the nice-looking new Steel Series back-lit keyboard. The configuration also includes a 750GB 7200rpm hard drive.
Another neat feature exclusive to MSI's gaming laptops is the TDE (Turbo Drive Engine) feature that overclocks both the CPU and GPU of the laptop with the simple push of a button. All in all, this is a pretty great deal on a really powerful laptop.