It's difficult to get a comprehensive overview of the mobile GPU market, and the manufacturers (as in: AMD and NVIDIA) are not making it any easier by frequently updating the names whether or not there are any relevant changes compared to the predecessor. It is also important to remember that laptop graphics cards are not directly comparable to a full-size add-on card for your desktop PC. The 'M' attached at the end of the name makes a great deal of difference here.
When comparing laptop GPUs, there is no substitute for the incredible amount of work put into the Notebookcheck charts. It is exceptionally comprehensive and includes just about every mobile GPU in existence, so we decided to jot down a very simplified listing with all the older and certified CAD (Quadro) cards stripped out and do a summary of what's available right now – the graphics processors that are most common in gaming laptops – from the high-end cards to the bare minimum for an adequate gaming experience.
As of December 2011 there are not many changes to report over previous months, but AMD is about to launch its first mobile 28nm GPU in the Envy series that will be launched this month.
1. AMD Radeon HD 6990M
Is AMD's HD 6990M or the GTX 580M from NVIDIA the fastest mobile GPU at the moment? Both manufacturers claim that theirs is the fastest, and they are both right, in a sense. It seems to differ from game to game, so you can interchange #1 and #2 based on personal preference, overall features and performance in a particular game. The area where the HD 6990M wins hands down is value for money – it costs significantly less than the GTX 580M. Regardless, both are fast enough to run any game in Full HD with high detail settings and neither has much in common with the desktop variety – least of all the 6990M. The desktop HD 6990 is a dual-GPU monster card with a power draw that makes it unsuitable for any laptop, while the mobile version has more in common with the desktop HD 6870, which still isn't bad considering the latter takes up two slots in an ATX case. Like the HD 6870, the HD 6990M has 1120 stream processors/shaders, but slightly lower clocks than its desktop counterpart.  The 6990M comes with twice the amount of memory though – 2GB of GDDR5 instead of 1GB. Because of its power and cooling requirements, the HD 6990M is usually only found in large desktop replacements such as the Alienware M17x.
1. NVIDIA GeForce GTX 580M
NVIDIA's speediest mobile GPU is faster than AMD's card in many games and slower in some, but in dual GPU (SLI/CrossfireX) setups –which are highly driver dependent – the 580M takes the lead, something that has been confirmed independently by Tom's Hardware and Anandtech. The HD 6990M, on the other hand, seems to be much more power efficient (which also means less heat). At any rate, the 580M is an incredibly fast mobile GPU that will beat all the competition except the HD 6990M in certain games and situations. It comes with 384 CUDA Cores/shaders (the shader core count is not comparable between AMD and NVIDIA cards due to a different architecture) and is akin to the desktop GTX 560. Just like its main competitor, the GTX 580M is generally only available in large laptops such as the Alienware M18x, which can be equipped with SLI configurations of both the 580M and the 6990M, or the Clevo X7200, which currently tops our "fastest gaming laptop" listing.
3. AMD Radeon HD 6970M
The Radeon HD 6970M is also a very powerful mobile GPU, which is available as an option for the Alienware M17x and a number of built-to-order Clevo laptops that are customized by Origin PC, Sager, AVADirect and others. With 960 stream processors and 2GB of GDDR5 it is not far from the HD 6990M, but it has a slightly lower base core clock speed – 680MHz vs. 715MHz. It is rarely used for the simple reason that it's so close to its big brother in both price and performance, but it shows up as an alternative every now and then.
4. NVIDIA GeForce GTX 570M
Unlike its predecessor the GTX 470M, the GTX 570M is actually being put to use in the real world – so far most notably in MSI's gaming laptop lineup, the 15-inch GT680DXR/DX and 17-inch GT780DXR/DX. It is logically placed between the GTX 560M and the 580M in terms of performance with 336 CUDA cores and a 192-bit memory bus. It is however closer to the 560M than the 580M due to the smaller memory bus and lower clocks.
5. NVIDIA GeForce GTX 560M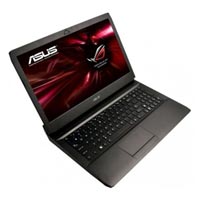 The GTX 560M is by far the most widely used GPU in gaming laptops 15 inches or larger. Although its performance is nowhere close to the GTX 580M or HD 6990M, it strikes a good balance between price and performance and has taken over the role of the GTX 460M as the most common mobile graphics chip. It can be found in everything from entry-level configurations of the Alienware M18x to the 15.6-inch ASUS G53SX. Actually, the entire Republic of Gamers lineup from ASUS is equipped with this GPU. It differs only slightly from its predecessor; with 192 CUDA cores and a 192-bit (or 128-bit) memory bus coupled with GDDR5 video RAM (the memory bus width depends on the amount of memory), but it has the important advantage of higher clocks while remaining at the same power consumption. The GTX 560M is fast enough to play most games at medium to high settings and Full HD (1920×1080) resolution.
6. NVIDIA GeForce GT 555M
NVIDIA's GeForce GT 555M is also a popular GPU that is used in many laptops including the Alienware M14x, Dell XPS 17 and lots of others. What's peculiar about the GT 555M is that it's available in several versions with differences that should have been sufficient for different names. Nevertheless, there's a version with GDDR5 memory (128-bit) and 96 CUDA cores as well as one with DDR3 memory (192-bit) with 144 cores, the latter of which is most likely the fastest version and the one that is included with the aforementioned laptops. The 144 core version has a relatively low core clock speed (590MHz) but plenty of room for overclocking. The result is a GPU that plays most games at medium to high detail settings and high resolutions.
7. AMD Radeon HD 6850M
The HD 6850M from AMD is most notably the GPU included with the HP Envy 17, but it's also available with a number of other desktop replacements from Acer. This GPU comes with a full 800 stream processors, but is somewhat hampered by a 128-bit memory bus and low clock speeds. It nevertheless qualifies as a high-end GPU and plays most games with medium to high detail settings at high resolutions.
8. AMD Radeon HD 6770M
Although it has significantly fewer cores than the HD 6850M, the HD 6770M and its 480 stream processors is actually quite close to its bigger brother in terms of performance thanks to its considerably higher clock speeds. The HD 6770M is included with the latest batch of 15- and 17-inch MacBook Pros as well as the popular HP Pavilion dv6t and dv7t Quad Edition.
9. NVIDIA GeForce GT 550M, 540M, 525M
Now we have left the high-end territory to start looking at mid-range GPUs – those that you normally find in laptops that aren't branded or marketed as gaming laptops, but that are still powerful enough to offer a good gaming experience at lower resolutions. With the exception of the GT 555M, the GPUs in the GeForce GT 500 series are quite similar from the 550M down to the 525M. All of them have the same amount of CUDA cores (96), but their actual performance may differ considerably depending on clock speed and the type of memory used. One notable exception from the rule is the Alienware M11x (with a GT 540M), which is certainly sold as a gaming laptop but unlike any other laptops with these cards it is much smaller.
10. AMD Radeon HD 6650M, 6630M
Finally, AMD's mid-range offerings are also capable of providing good gaming graphics at lower resolutions. The 6650M and 6630M both have 480 stream processors like the more competent HD 6770M, but are hampered by slower clocks and DDR3 video RAM instead of GDDR5. Out of the two, the 6650M is more powerful because of a 600MHz core / 900MHz memory clock vs. the 6630M's 485MHz / 800MHz. Nevertheless, they have enough performance to run just about any game at decent detail settings at 1366×768 resolution, which is often the same as native resolution for laptops with these cards. One example is the thin-and-light HP Envy 14.
Of course it is also possible to play games with lots of GPUs with specs below the ones listed above, but for newer titles some adjustments will have to be made in terms of resolution and visual details. Older games like World of Warcraft, Half Life 2 and Counter Strike: Source may still be playable at higher settings, but you can pretty much forget about running titles like Skyrim, Crysis 2 or The Witcher 2 at high details (or at all).