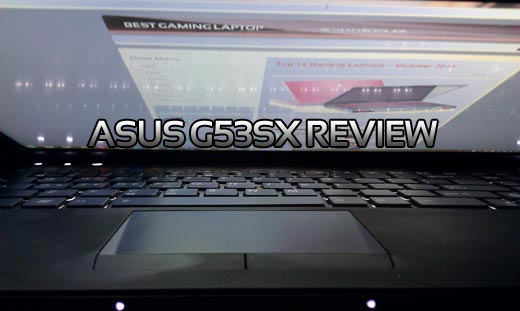 The ASUS Republic of Gamers G53SX is the sequel to the G53SW and very little (if anything) has changed compared to the previous model except for the GPU, which has been upgraded from an Nvidia GTX 460M to its replacement the GTX 560M. Although "upgraded" is a relative term here, since ASUS has opted for the version with 2GB of GDDR5 and a 128-bit memory bus instead of the 1.5GB or 3GB version with a 192-bit memory bus. The smaller memory bus width almost certainly has an impact on performance, but on the other hand the GTX 560M has been given higher clock speeds that will even out the differences.

[pcu id=60]

In terms of design, the G53SX is the 15.6-inch counterpart of the 17-inch G74SX, and the feature set is largely the same, but the 17-inch model's GTX 560M has the full 192-bit memory bus. The G53SX is available in a number of different configurations, including the G53SX-A1, XR1, XN1, and quite possibly a few others, but most of them share the same Core i7-2630QM CPU and GTX 560M CPU. The only difference is the amount of RAM and hard drive capacity, so the difference in actual gaming performance between the different models will be practically negligible. For the record, our unit came with a 640GB hard drive and 8GB of RAM.
Design and Features
It has the same "Stealth Bomber" design as the other laptops in the series, in matte, rubberized black with two large rear exhausts – one for the CPU and one for the GPU. This is an excellent cooling solution that keeps both the temperature and noise level in check. The laptop stays fairly silent even under heavy load, which is more than you can say for most laptops. On the downside, the backside is a bit bulky and the laptop as a whole is quite large and heavy even for a 15-inch model (7.9 lbs).
Otherwise the design and build quality feels exceptionally robust. There are no loose parts or joints and the laptop is very comfortable to work with since it tapers off from the bulky back part with the fans to the much slimmer front with the rubbery palm rest and large, comfortable track pad. The latter supports multi-touch gestures and two-finger scrolling, which is great, but the buttons give off a rather loud clicking sound when depressed.
There is a small amount of flex in the illuminated keyboard, but not to a disturbing degree. Writing this review on the G53SX is quite a comfortable experience even though ASUS has crammed in a small numpad on the side – a somewhat questionable design choice in a 15-inch laptop, but it works on the ASUS, possibly because it's slightly wider than the average 15-inch model. Speaking of which, a large bezel around the screen is an annoyance that hopefully disappears in a near future. This is not specific to ASUS, but a 16-inch or slightly larger panel would easily have fitted within the confines of this frame.
While we are on the topic of the display, the manufacturer has been kind enough to use a matte variant instead of the glossy screens that are commonplace in laptops with low-end TN panels. The panel is almost certainly a TN, but it is very bright and the colors and contrast are almost as good as those on my desktop VA monitor when viewing the screen from the front. Its viewing angles are decent, but colors get washed out from sharper angles.
The screen resolution is 1920 x 1080 ("Full HD"), which is a very high resolution on a 15.6-inch laptop. It is a good idea to right-click on the screen and select "screen resolution" and then click on the blue link that says "make text and other items larger or smaller" and go with one of the larger options. Games look fantastic in Full HD though.
In terms of connectivity, the G53SX comes with Bluetooth and one USB 3.0 port (along with three additional USB 2.0 ports), HDMI, VGA, Gigabit LAN and headphone/mic jacks. Naturally, wireless N is also supported.
The G53SX actually has two hard drive bays just like its larger 17-inch counterpart, but it is mainly sold in single-drive configurations. You can of course insert drive number 2 yourself if you have a small screwdriver and some time to spare – the second SATA port is enabled and runs at SATA 3.0 (6GBps) speeds, so you can boot from an ultra-fast SSD and use the hard drive for secondary storage.
Performance – Synthetic
Now to find out how the 128-bit GTX 560M performs in the real world and have look at overall performance. As usual, the first and foremost way to get some good comparison numbers is to run Futuremark's 3DMark and PCMark benchmarks.
These numbers are interesting. As expected, the smaller memory bus has some effect on 3D performance, but primarily in 3DMark06 (DirectX 9). The 3DMark Vantage (DX10) score, 8362, is also below average for a GTX 560M, while the 3DMark 11 (DX11) result, P2165, is actually markedly better than any GTX 560M review score that we've been able to locate. The only thing we can think of is that the latest NVIDIA drivers have been tweaked for 3DMark 11. The lower average scores notwithstanding, the 128-bit 560M is still a capable GPU and noticeably faster than the GT 555M for example. On a side note, it is possible to take the 3DMark Vantage score above 10,000 points with some overclocking, but that's a story for another time.
Gaming Performance
Just like we did last time with the Alienware M14x review, we're focusing on the optimal settings that provide playable frame rates at the best possible quality settings, i.e., around 30 frames per second (FPS) or better. It's safe to say that the G53SX and its GTX 560M can play any game currently available at good quality settings at the very least. The main question is whether it can run them at the display's native Full HD resolution without sacrificing too much on the visuals. The short answer is that among the games we've tested, DX11 Crysis 2 stands out as on of the two games where we had to tune down the screen resolution to get reasonable frame rates, which is hardly surprising considering that not even two GTX 580M's in SLI can handle Crysis 2 in DirectX 11 with high-res textures. Running it in DX9 on the "very high" (actually medium) setting in 1080p native resolution is nevertheless a gratifying experience. The other game was the infamous GPU-killing Metro 2033, which wouldn't run at playable frame rates in DX11 mode at all, but the "normal" or medium setting and DX10 was fine and produced a convenient 30 FPS.
FRAPS is a great tool, but benchmarks produced with it are not as accurate as standardized tests; Since you basically have to pick a scene or level and go with it the results are somewhat arbitrary, but still give you a fairly good reading of what to expect from different games. All frame rates in the chart have of course been measured with the GTX 560M's stock clock speeds. Aside from Metro 2033 and Crysis 2, there was no reason to overclock anyway to run the remaining five games at high settings.
Resident Evil 5, HAWX 2 and STALKER posed no challenge at all to the G53SX–producing 50+ frames per second at high-detail settings. Even the brand new Dead Island produced a 50 FPS average at the display's native 1920×1080 resolution with all the details maxed out. Another positive surprise was Deus Ex: Human Revolution, where we could tweak the already relatively high settings and add improved texture filtering as well as some other tweaks from the "advanced" graphics menu without any relevant loss in FPS.
By and large, it doesn't look like the 128-bit GTX 560M is all that "crippled" after all, although exchanging half a GB of video RAM for the wider memory bus would probably have been preferable. 2GB or more video memory is still overkill for most if not all laptop graphics cards.
Temperature and Noise
This is one of the best parts–even when gaming or running benchmarks that forces the system to work at its full potential, the G53SX remains comparatively silent. The double-barrel cooling solution on this laptop is possibly the best one on the market. Where a single fan would have to work twice as hard and twice as loud, the twin exhausts on this "Stealth Bomber" keeps it at acceptable temperatures at all times, whilst keeping the noise level to a minimum. Sure, the fans (particularly the GPU fan) go into a louder mode from time to time, but never reach a disturbing level.
Battery Life
Even though it should theoretically be able to support it, ASUS passed on NVIDIA's Optimus technology, which automatically switches between the high-end GPU and Intel's power-saving but otherwise largely useless IGP. Therefore it will have to run with the GTX 560M at all times, and even though the GPU clocks go down to the bare minimum when the laptop is in power-saver mode, it sill won't be able to compete with gaming laptop that come with Optimus or AMD's switchable graphics.
The result is a battery life of about 3 hours with Wi-Fi on, medium brightness and the battery-saving power plan in effect (i.e. useful settings). This is still a fairly decent result for a laptop running only a high-end graphics card and it also saves you the hassle of having to wait for graphics driver updates from the manufacturer, which have a tendency to never show up. Depending on how important this is for you, it may still be a drawback seeing as there are now gaming laptops that can actually last for quite a few hours on battery power. On the other hand, playing games on battery power will use up all the battery juice in roughly half an hour in any decent gaming laptop, Optimus or no Optimus.
Final Thoughts – Pros and Cons
One aspect that we haven't mentioned yet is the price tag, and the G53SX offers extremely good value for money–the entry-level configurations (which are still equipped with a quad-core CPU, 8GB of RAM and the same GTX 560M) sell for less than $1,100 from some retailers. That's the lowest price we've seen on a laptop with the GTX 560M. As for the drawbacks, we have already covered most of them, the 128-bit memory bus in the GPU being our main complaint. It is also surprising that the G53SW nearly always ships with a single hard drive although it's equipped with two full-featured SATA III 6Gbps hard drive bays (no need to replace the optical drive either). Although there's no RAID 0 support, using an SSD as the primary drive sounds like a great idea.

We have no complaints about the build quality in general, which is rock solid if a bit on the heavy side. A backlit keyboard is also nice to have even if you can't customize this one in all the colors of the rainbow like the Alienware ones. The crowning achievement though, is the superb cooling solution. The "Strike in Silence" slogan used by ASUS for its Republic of Gamers lineup is definitely not without merit.

[pcu id=60]