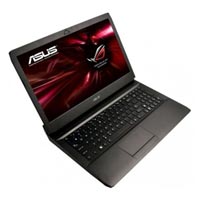 These kinds of video clips should be marked "not safe for work" because 99% of your colleagues will probably consider you a complete nutjob for watching stuff coming out of boxes. At any rate, we stay true to geek traditions and bring you this video straight from our so-called "test lab". I can assure you that quite a few gadget test labs look like this one. Don't miss the action-packed moment when the Drivers & Utilities DVD elegantly flies out of the box, to graciously land on the keyboard.
The gadget in question, if you haven't guessed it yet from the rather obvious headline, is an ASUS Republic of Gamers G53SX–the follow-up of the G53SW and one that looks exactly the same (pretty funky if you ask me). The difference is on the inside, where the NVIDIA GTX 460M has made way for the GTX 560M. Again a small change and one that might turn out to have little to no significance, which we are in the process of finding out.
The GTX 560M comes with higher stock clock speeds  (and probably overclocks better due to some power optimizations), but unfortunately its memory bus has been strangled from 192-bit to 128-bit in favor of more memory–2GB of GDDR5. We will surely find out in the upcoming review if this is an improvement or not.