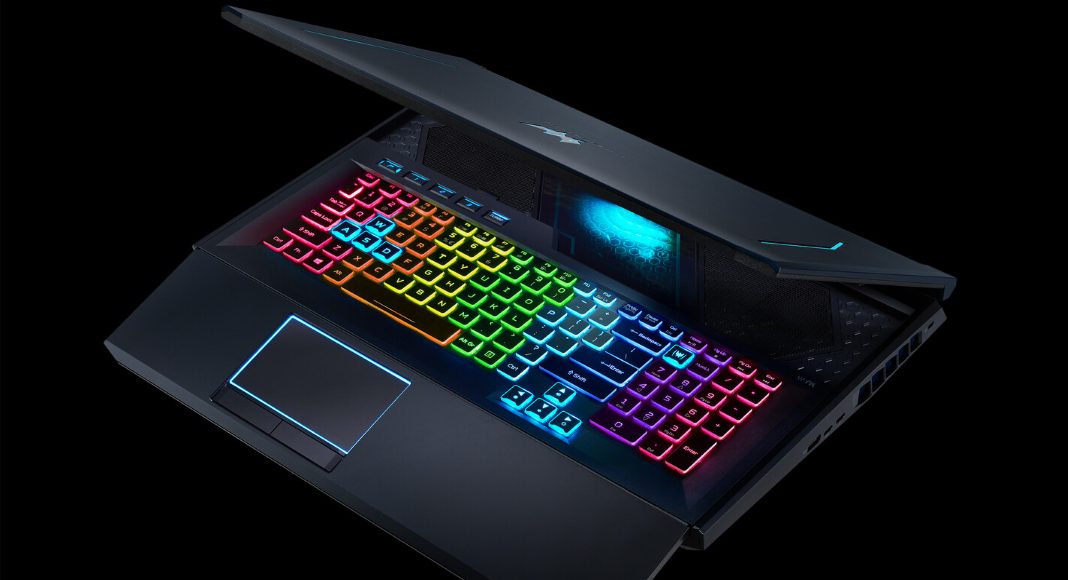 The latest member of Acer's Predator Helios family, known as the Helios 700, not only packs high-performance hardware but also a keyboard that will slide off the base to improve the laptop's cooling capacity.
Acer now expands its Predator Helios product range. The newest member is called Helios 700 and comes with a 17.3-inch, 144 Hz display. It's an IPS-type panel with the standard 1920 x 1080 resolution, similar to the ones found on the current Acer Helios 300 and Helios 500 series.
In terms of CPU performance, the Helios 700 can be equipped with up to an Intel Core i9-9980HK. This is an eight-core processor with 16 threads, and clock frequencies that range from 2.4 GHz up to 4.2 GHz in turbo mode on multiple cores. The single-core turbo frequency is up to 5.0 GHz.
There's no shortage of graphics performance either. The Helios 700 uses either an Nvidia Geforce RTX 2070 or an RTX 2080. According to Acer, these are not the down-clocked, performance-trimmed Max-Q versions (like those used in Alienware's m15 and Razer's Blade 15 laptops) but the full-featured versions of the graphics cards.
In addition, the laptop will hold up to 64 GB of RAM and networking is handled by Intel's Killer 802.11ax WLAN chip. It also comes with a 5.1 speaker system.  
The Helios 700's pièce de résistance, however, is the sliding keyboard. Users can pull down the entire keyboard, trackpad and palm rest area to improve ventilation (and possibly ergonomics).
The above video shows how the aforementioned part of the laptop can be moved to allow increased airflow to the cooling solution which is housed just below. According to Acer, the computer components will be overclocked automatically when the keyboard is slid out and the cooling improved. This is only logical, considering that both GPUs and CPUs use dynamic boost clocks that allow for higher clock rates when allowed by current temperatures.
Acer's Predator Helios 700 will be launched later in April in North America with a starting price of $2,700. Europeans will have to wait a bit longer, until July, and pay a bit more due to taxes.