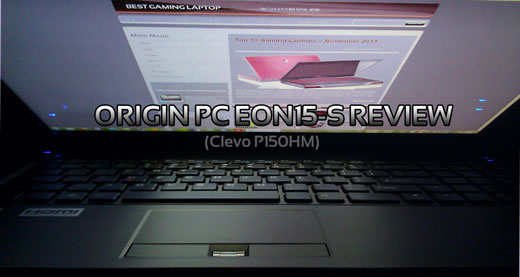 At long last we've been able to get our hands on what is currently the fastest 15.6-inch gaming laptop in the known universe. This all depends on how it's configured of course–there are basically no pre-built configurations, only custom versions, but the fact that it can be equipped with either of the two fastest mobile graphics cards available right now–the NVIDIA GeForce GTX 580M or the AMD Radeon HD 6990M–will ensure that you have the most powerful 15-inch laptop on the planet right now. Bragging rights are included, but here's a hint: don't try to impress your non-geek friends or significant other with it, and whatever you do, don't tell them what you paid for it!
The Origin EON15-S is based on the Clevo P150HM(x) platform, which is also used by other custom gaming PC builders such as Sager, Malibal, AVADirect and others. Our version is equipped with the GTX 580M, which is more expensive than the HD 6990M even after the recent price cut, but delivers somewhat better performance in many (but not all) games and benchmarks. In terms of price/performance, the 580M is probably a questionable choice in this case, especially since this laptop does not come with NVIDIA's power-saving Optimus technology that seamlessly switches between the integrated and dedicated GPU to enhance the battery life.
Specifications
Processor: Quad-Core Intel Core i7-2760QM 2.4GHz (3.5GHz with Turbo Boost)
Video Card: NVIDIA GeForce GTX 580M 2GB (256-bit)
Display: 15.6″ 1920×1080, Glossy Panel
Memory: 16GB Kingston HyperX 1600MHz DDR3 RAM
Storage: 240GB Vertex 3 Solid State Drive
Optical Drive: DVD-RW Dual Layer "Super Multi"
Other: Intel Wi-Fi Link 802.11a/b/g/n, Bluetooth, THX TruStudio Pro Audio, 2.0 megapixel webcam, 2x USB 3.0, 1x USB 2.0, HDMI, DVI-D, e-SATA.
Measurements and Weight: 6.82lbs/3.1kg; 15.04 x 10.24 x 1.4-1.72 inches, 376 x 256 x 35-43 mm
Price as configured: $2,887 (starts at $1,532)
The two major culprits for the price hike over the base configuration here are the GTX 580M and the 240GB Vertex 3. You can save more than $300 by going with the Radeon HD 6990M instead, and more than $450 by opting for a regular hard drive. Many words have been written about the pros and cons of SSDs, but personally I will never use a laptop with just a regular hard drive again. The difference in everyday use in terms of decreased load times and system responsiveness is dramatic. The merits of having an optical drive in 2011, on the other hand, can definitely be debated unless you are addicted to the Blu-ray format. Otherwise I would push the DVD drive out of its socket and replace it with a hard drive dock.
Design and Build Quality
Just from looking at it, there's no telling that this is a gaming laptop other than the Origin branding. The design is very discreet with not even a hint of blinking LEDs aside from the HDD and network activity lights. It looks like your average 15.6-inch laptop and is neither larger nor heavier than average. This is quite amusing since this laptop is anything but average, which is first hinted by the high-quality Full HD (1920 x 1080) display when you turn it on. Unlike many other gaming laptops on the market it doesn't have an oversized bezel around the screen, but neither is it "frameless" (i.e. no glass pane). Its viewing angles are a cut above most other TN panels.
It is all black and the entire laptop except for the bottom part has the same type of rubberized finish that is also present on Alienware and ASUS machines. Even the multi-touch touchpad is covered in this material, which is unorthodox but works fine once you're used to it. The buttons accompanying the touchpad are not quite as impressive as the rest of the machine. They feel rather thin and shallow and detract from an otherwise very robust build. The keyboard is however comfortable to type on and comes with a small num-pad on the side, but it is unfortunately not backlit. A fingerprint reader is also included, which is a nice bonus that adds a sense of security (most likely a false one, though, unless your drive is encrypted). The THX sticker on the palm rest does not mean that you get cinema quality sound out of the laptop speakers, but it comes with a sub-woofer and some sound enhancements courtesy of the included THX TruStudio Pro application, so it sounds (marginally) better than most laptops. It should also support 7.1 audio via S/PDIF, which is probably a big deal if you have the right goods to hook it up to.
While this laptop is as fast as it gets in this form factor, you will have to cope with a couple of downsides. One of them is a less-than-stellar battery life, another one is very active (but efficient) cooling solution . On the other hand, when inserting what is essentially a high-end desktop graphics chip in a 15.6-inch laptop chassis, you shouldn't be surprised that it makes some noise when you fire up your favorite games at "ultra" settings. The heat goes out the rear via two separate ventilation holes with dedicated fans–one for the GPU and one for the CPU, both of which are most definitely needed on this laptop. They are active to some extent almost constantly and go into a high decibel mode when gaming. Considering the hardware, though, it would be more worrying if the fans weren't as active, since this system would easily reach dangerous temperatures without efficient cooling. Nevertheless, gaming with headphones is recommended.
The back part also contains an e-SATA port, power, HDMI and a DVI-D port (a DVI to VGA adapter is included). On the left hand side of the laptop sits two USB 3.0 ports, one USB 2, FireWire, memory card reader and an RJ45 network jack. On the right is the DVD (or optional Blu-ray) optical drive and the audio jacks along with another USB port.
Considering the performance/size equation, the EON 15-S still does a good job balancing the situation. It's even possible to overclock the GPU without the whole thing melting in your lap (Origin even offers to do it for you).  The overall impression is that this is a solid laptop and built to last, even if–or perhaps because–it doesn't come with a race car-inspired design and shiny LEDs in every nook and cranny.
Performance
At any rate, my guess is that no one buys this laptop because it looks cool, but because of the numbers you are about to see. Let's start with the synthetic benchmarks from Futuremark. PCMark Vantage runs a series of tests based on actual usage scenarios and gives you a pretty good hint about overall system performance, even if it isn't all-encompassing and the gaming tests are somewhat lacking in scope. For that purpose the 3DMark lineup is much better; 3DMark 06 for DirectX 9, 3DMark Vantage for DX10 and 3DMark 11 for DX11 features.
The closest competitors that we've tested are both fully capable of playing any and all PC games on the market at more than adequate frame rates and quality settings, but they are evidently far behind the EON15-S. As for the 14-inch Alienware M14x, that one is even more restricted by its smaller format, but the ASUS G53SX is actually both larger and heavier than the P150HM. The bigger difference found in PCMark Vantage can largely be attributed to the SSD and the faster processor (the M14x PCMark Vantage score instantly jumped about 2,000 points with a solid state drive, while the above number is for the 500GB 7200rpm hard drive). However, the 3D benchmark scores are mainly determined by the graphics card, and the GTX 580M is not surprisingly well ahead of both the GT 555M and the GTX 560M. It has double the amount of CUDA cores/shaders (384) compared to the 560M (192), but the clocks are lower in the 580M.
Nevertheless, the graphics performance is greatly improved and allows you to enhance the visual quality by adding more details to your games (when possible) and post processing effects like antialiasing, anisotropic filtering,  ambient occlusion, tessellation and so on and so forth.
All games have been tested at the laptop's default 1080 x 1920 resolution. In addition to the above, we also tested Dead Island and H.A.W.X 2, but they made the graph look funny by producing roughly 100 frames per seconds more than the above on the highest settings. It should be rather obvious that the GTX 580M can handle any game with ease even at high quality settings. Skyrim is not particularly demanding, so that it runs at the "Ultra" preset is not surprising (it runs even better with FXAA instead of 8x antialiasing, if you prefer this mode). S.T.A.L.K.E.R Call of Pripyat would easily have produced very high frame rates if we hadn't gone into the advanced graphics menu and turned on some extra eye candy. Deus Ex: Human Revolution was no challenge whatsoever, and neither was Resident Evil 5.
The more interesting games would be Crysis 2 with Hi-resolution textures, The Witcher 2, and the good-old Metro 2033, which is still one of the most demanding titles ever released for the PC. Metro 2033 would only run well at "low" settings in DX11 mode, but even the low setting includes plenty of advanced features that take advantage of the latest graphics cards. Crysis 2 would put out good frame rates with DX11 and high-resolution textures, but only on the "extreme" setting (as opposed to the highest "ultra" setting). This unfortunately removes some tessellation effects, but going into the menu and selecting the highest setting for "objects" turns this on, and with some tweaking it should be possible to run it with tessellation on. The Witcher 2 is also one of the most demanding (and best-looking) games right now. It defaults to "low spec" settings but works well with "high spec" as well (the Ultra setting with "UberSampling" is out of the question even for most desktop gaming rigs with SLI).
Summary – Pros and Cons
All in all, there is no question that the Origin EON 15-S/P150HM is the most powerful 15.6-inch laptop on the planet right now, and on top of that it has a smaller footprint and weighs less than most other gaming laptops in the same size category. It's an impressive feat that it can even be done, but it is not without drawbacks–it needs very powerful cooling, which adds to the noise level, and the battery life is not particularly impressive to say the least. Origin's own 100 minute mark for the battery life seems about right, even if it is possible to squeeze some additional minutes out of it with a very aggressive power plan. But a long battery life is obviously not the point with this laptop. The aim here has been to create the fastest 15-inch laptop that (a lot of) money can buy, and it doesn't accomplish this by a small margin. It runs circles around the competition.